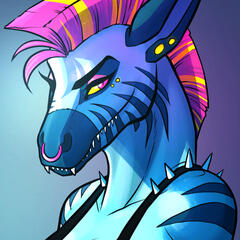 Beleoci
Hello! My name is Beleoci, I'm a Pacific Northwest/Portland area furry artist. This page is meant as an overview of everything I have to offer at conventions; please scroll down for a full list of links and visual examples of merchandise and table setups.

For a little bit about me, I'm new on the scene, but I've been inspired by the amazing works I've seen across this incredibly talented group of people, and been touched by the kindness I've already found here. ❤

I table at every con I can make it to, where I sell on the spot commissions, badges, prints, keychains, buttons (including custom buttons!), and stickers. My merchandise grows more varied every time I table somewhere, so if you've met me at a previous con be sure to check in and see what's new!

I've recently transitioned to full time artwork, so while I have a lot of projects I'd love to work on, I've been slowly finding the time to dive into them one at a time. My current project is the story of a runaway kelpie and her team of mystery solving oddities, hired by a ghost to solve a murder. Keep an eye out for zines and short comics about them!

Below you can find a full listing of everything I offer at conventions. Feel free to reach out to me if you have any questions about anything!
Full gallery of artwork
Prints
At-con commission samples
Table setup photos
Price list and item stock
Buttons
Keychains
Stickers